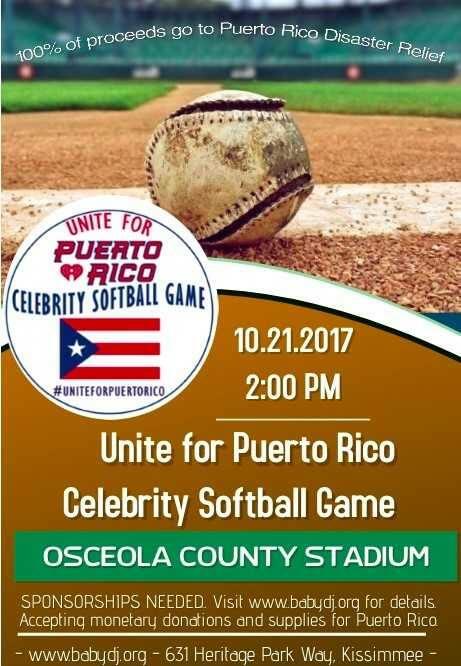 Unite for Puerto Rico Celebrity Softball Game is an event first imagined by Johnny Magic from Johnny's House Morning Show on XL 106.7 FM.
After witnessing the devastation from Hurricane Maria, Johnny felt the urgency to help Puerto Rico and the US Virgin Islands. He has reached out to local, national, and international celebrities throughout the sports, music, and media community to come together for this cause.
100% of proceeds will be for Puerto Rico and US Virgin Island disaster relief. The local community will come together on Saturday, October 21, 2017 at the Osceola County Stadium in Kissimmee at 2:00pm as we raise money and collect donations for Puerto Rico and the US Virgin Islands.
This is a fun family event where all are welcome!
We will have entertainment throughout the evening. Funds raised will be sent to the First Lady of Puerto Rico fund, as well as the foundation connected through Rumba 100.3 FM. All iHeart Media Radio station will be involved with this amazing event. We thank community partners for their generous donations, as they help us help those who have lost so much.