Meet 13 Crowns, The Next Generation Sibling Band You Need To Know
The family that plays music together, stays together. Over the years, there have been so many iconic family bands, and 13 Crowns is the next generation of sibling musicians, taking over their family's incredible legacy, The Jets.
13 Crowns is comprised of the seven oldest siblings of the Wolfgramm family -- their father was the bassist in '80s family band The Jets -- and includes lead singers 15-year-old Abraham and 16-year-old Tihane, 18-year-old Isabella on bass, Maikeli (14) and Heinrich (20) on guitar, 12-year-old Nora on drums, and 21-year-old keyboardist Eve.
On Their Musical Influences
Listening to their music, 13 Crowns' style is uplifting, upbeat pop rooted with R&B, hip hop, and soul, and the group draws inspiration from artists and bands from all four genres. The band tells iHeartRadio, "We are a live band, so I think some of our biggest influences are other live bands, especially from the good old days like The Jackson 5, one of our biggest inspirations, Earth, Wind & Fire, even The Jets, obviously. But for newer music, we are obsessed with Bruno Mars. He just has something about him. He is such an entertainer, and we love to watch him, and we love to learn from him. And then also we love Beyoncé."
Speaking of The Jets, 13 Crowns have also very much been influenced by their parents. They explain, "I think our parents have been our biggest influence. Their groups and what they've done in music has been so inspiring to us and that has been, honestly, what we've been working towards. We want to do what they had the opportunity to do, and do it together as one big family." They add, "Growing up, we were always surrounded by music, so it just kind of came naturally. We all loved to perform and see our parents perform, and so I think we just decided since we were young that it was what we were meant to do."
Describing their signature blend of sound the band says, "Our sound is a mixture and pop and R&B. We also like to throw in a little bit of funk for dancing and soul. And overall we just want to keep our message fun, light, and keep people on their feet dancing."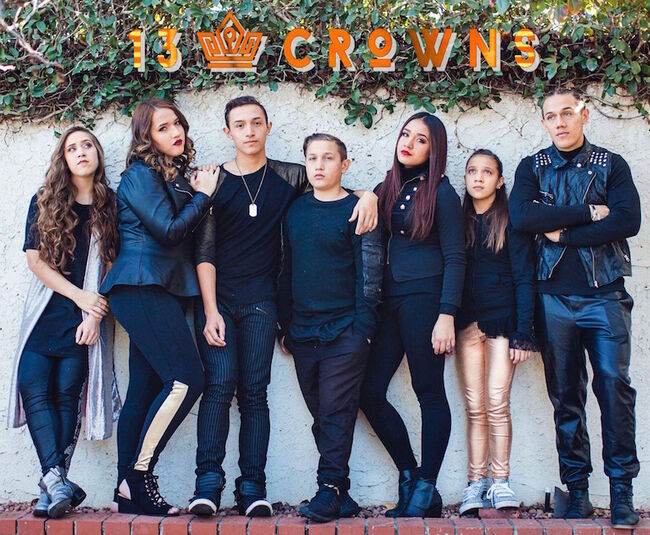 On The Origin of Their Band Name: 13 Crowns
The "13" in 13 Crowns is what makes this band a family affair. The group describes being siblings in a band together as "awesome." And sure, like all families, they have their arguments, but as they tell us, "We all know each other the best and we always are able to work things out, talk things through, and I think that being a family really makes a difference in our dynamic as a band."
So, where does 13 Crowns come from? The band explains:
"It kinda represents two things. The first part, the number 13, stands for the number of children that we have in our family. And, the second part represents, for us, that everybody has the chance to be royal and everyone has the potential to someday wear a crown."
On the Meaning Behind Their Single "Grateful"
The mindset this young group has being such a dynamic band as siblings runs right into their music, including on their new single "Grateful." 13 Crowns explains of the meaning behind the song:
"Our song, 'Grateful,' kinda has like a throwback feel. It starts off with that piano, and instantly, it kinda just makes you smile. But more than just the sound of the song, the message of the song is what's really important, because everybody goes through struggles and hard times in their lives. But, no matter what, there's always something to be grateful for. There's always that sunshine that you can find through the rain."
On Their Upcoming EP And Working With Poo Bear & The Audibles
"Grateful" is just the tip of the iceberg for 13 Crowns. The band has been working with some superstar producers and songwriters on their upcoming EP, including Poo Bear, who has worked with artists including Justin Bieber, and The Audibles. They tell us:
"We had the incredible opportunity to work with the songwriter Poo Bear and he is just amazing. He has worked with so many crazy artists, and the fact that he got to work on some songs with us was just a dream come true. He's worked with Justin Bieber, Sam Smith, Usher and so many others. And getting the opportunity to go into the studio with him was just so crazy. We had such a great time. He's such a cool guy, and we loved working with him. And we also got to work with The Audibles. They worked with us on our whole EP. We love them. They're like family to us. We love getting to work with them and we love, not only their music, but them as people. So, we've just been super blessed."
13 Crowns describes the rest of the music on their upcoming EP as "super fun." The band says, "We tried to kinda keep it in that same vein as 'Grateful.' We've got some songs that [have] a throwback sound, but still with the really uplifting happy beat and message, and that's what we really want to portray to all of our fans."